GDF Presents Gift of $12,000 to LASD
---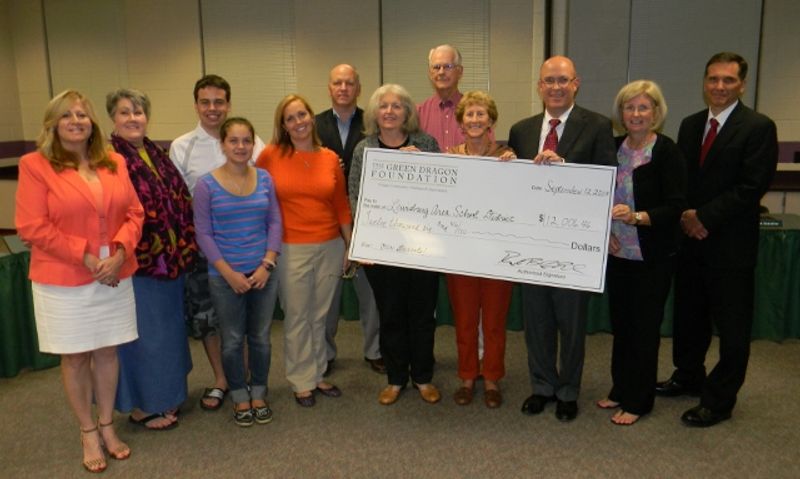 Brooks Gronlund, president of the Green Dragon Foundation, presented a check in the amount of $12,006.46 to the Lewisburg Area School District during the September 12 meeting of the school board.  He noted that this particular gift was made possible through generous designated donations received by the Foundation.
According to Gronlund, donors have the option of designating their gifts to specific LASD programs and initiatives.  "At the beginning of each school year, we distribute donor designated gifts that were received since the annual January gift presentation."
These particular gifts were given to the Green Dragon Foundation to fund specific initiatives such as LASD EITC programs, strings programs, safe school initiatives, academic student competitions and the LAHS marching band and baseball team, among others.
Of special note is a memorial gift from the family of Bruno V. Garisto who designated their donation for the LAHS Fall Play.  Upon learning about this generous gift, LAHS Play Director, Roberta Pickering responded "I am thrilled about this donation and cannot thank Mrs. Garisto and the Green Dragon Foundation enough.  I know our students will benefit from this very generous gift and it will make a difference in this year's fall play and I hope many more in the future."
For the second year, the Nicholson family, John '04, Allen '07 and mother, Karen, made a generous donation to the Green Dragon Foundation in support of art programs at the high school.  According to Gronlund, "These young men felt passionately about the art education they received in Lewisburg.  They went on to study art in college and are pursuing careers in the field.   They credit their love of art from their formative years at Lewisburg and wanted to give back, to make a difference for current students and help them foster their love of art." 
These gifts will have a positive affect on students throughout the district.  "This fits in well with our goal to impact as many students as possible."  He concludes, "We are so grateful to these families and all of our donors for their generosity.  What a difference their gifts will make to our students."
The Green Dragon Foundation is seeking financial support to continue funding exciting initiatives.  Individuals or businesses wishing to volunteer or donate can send an email to [email protected] or call the Foundation's office at (570) 522-8433.