Gift of $85,000 given to LASD
---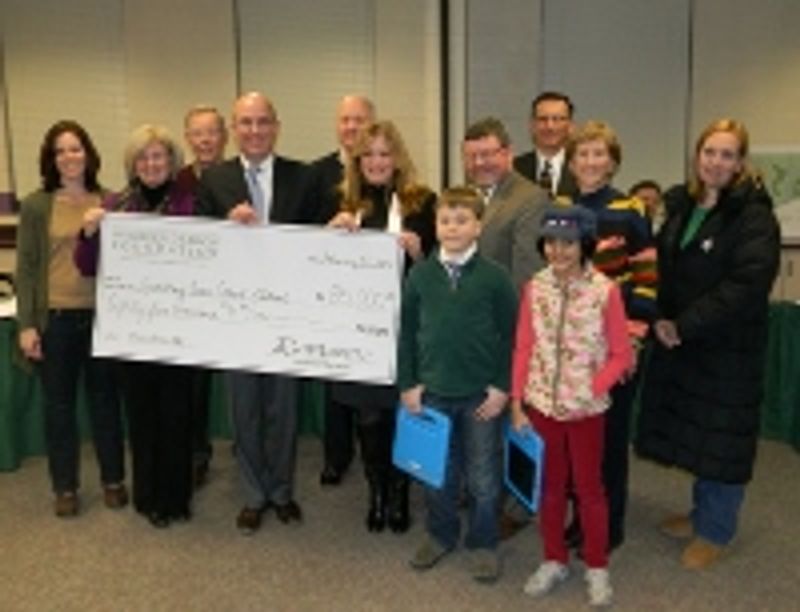 Brooks Gronlund presented a check in the amount of $85,000 to Dr. Mark DiRocco at the February 27 school board meeting.
"On behalf of the Green Dragon Foundation Board of Directors, and our more than 400 donors, I am delighted to make this gift to the Lewisburg Area School District," Gronlund said. "This gift is the result of year-long fundraising efforts to benefit our students."
In keeping with its mission to support educational, cultural, and athletic programs and capital improvement projects for the students of the district, the Foundation presented this check in support of a variety of programs throughout the school district.
 "Last year, we gave $77,000 to the district and tonight we are kicking off 2014 by making a gift of $85,000" Gronlund said. "This gift will touch every Lewisburg student in some way and represents enhanced learning opportunities throughout the district. The Foundation is helping to put tools in students' hands!  We are committed to enhancing and enriching the academic, cultural and athletic experiences of all of our students. Throughout the coming years, the Foundation will also continue its efforts to raise funds for capital improvement projects."
Included in the $85,000 donation is a $1,000 gift in honor of the Foundation's '2013 Volunteer of the Year' Kristen Hendrickson.  She has chosen the iPad Initiative at Linntown Intermediate School as the program to receive this gift.  DiRocco states, "Programs that provide our students with 21st century technology will help prepare our students for their future."
According to DiRocco, Foundation support will enable the district to enhance programs that provide enriching experiences for our students, including:
Kelly Elementary School
$1,000 for budget enhancement initiatives
Donald H. Eichhorn Middle School
$12,838 to help refinish the floor as part of the gym refurbishment project
Lewisburg Area High School
$2,600 for the Spring 2014 Musical
$1,200 for the Marching Band
$2,000 for the Chess Club
$1,180 for LAHS Art Programs
$550 for athletic programs
Lewisburg Area School District
$3,360 for library enhancements at all schools
$1,838 to augment performing and visual arts
$8,436 for district-wide iPad Initiatives
According to Gronlund, "A generous couple approached us about wanting to augment the boys' and girls' soccer programs.  Because of their generous offer, this spring the middle school soccer teams will be able to practice with new portable soccer goals.  This fall, our high school teams will reap the benefit."  Upon learning about this gift, Coach Kratzer, LAHS Boys' soccer coach stated, "The single most important way to improve players' skills is to give them more time on the ball. These portable goals will provide more opportunities for our players to touch the ball in meaningful competition.  I truly appreciate the financial support of donors through the Green Dragon Foundation. " In addition, these donors also expressed a desire to help provide need-based scholarships for team soccer camps.  Gronlund continues, "Funding has been secured to provide financial help for student athletes to participate in LAHS team soccer camps this summer."
The Foundation continues making a big difference for high school science students.  According to Gronlund, "We are grateful to the Geisinger Health System Foundation.  They recently made a gift of $10,000 to the Green Dragon Foundation.  Funds will be used in support of AP science courses enabling students to take special field trips and enhancing the AP science curriculum."
Finally, major gifts from the Baylor-Hamm Companies (Country Cupboard), Lawton Insurance, M&T Bank, Mifflinburg Bank & Trust, Northumberland National Bank, Susquehanna Bank, Swineford National Bank, Weis Markets, and Wood-Mode allowed programs to receive $37,500 in funding through the Pennsylvania Educational Improvement Tax Credit program.  This gift will fund the Interactive Language & Literature Program for students in grades K-8.
"The Foundation is so grateful for all gifts from both corporate and individual supporters," states Gronlund. "Their donations truly make a difference in the educational experiences of Lewisburg students."
Individuals or businesses wishing to volunteer or donate can call the office at (570) 522-8433 or email at [email protected]