Dance Choreographer Donates Time and Talent to Provide Unique Opportunity for Students- Story By: Bill Stackhouse '69
---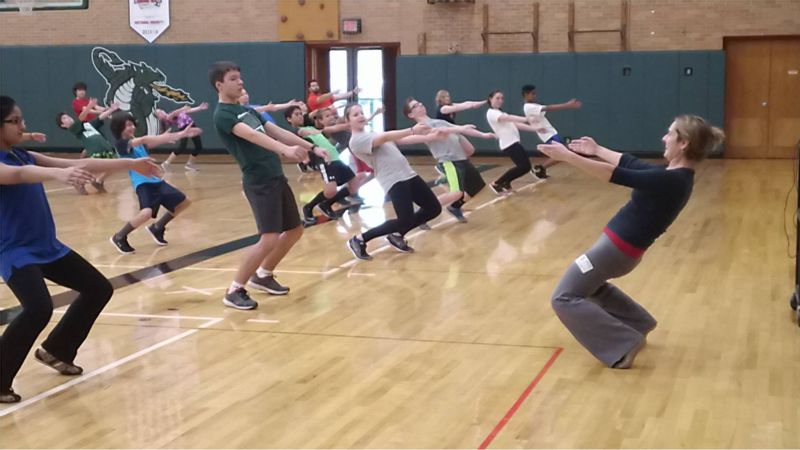 The Donald H. Eichhorn Middle School just completed their seventh grade dance unit.  In the unit, the students learned a variety of folk and social dances covering many countries and different periods in time.  In the end, the students designed their own dance to present to their teachers and fellow classmates.  This year, the teachers asked their classes if they knew of someone who had dance background and one of the seventh graders, Tula, suggested her mother Karen Schatten-Lock.  Karen is a "director, choreographer and performer with credits that include work for the concert dance stage as well as musical and non-musical theater."  She has extensive credits and awards and most recently, she served as adjunct faculty at Bucknell University. 
Karen met with each class once, leading them through a variety of warm-ups that impressed upon the students the type of conditioning a dancer must go through prior to actually practicing their chosen dance style.  Elena, who never danced before, "enjoyed the dance steps presented...and incorporated some of the dance steps into her dance final."  Tula is a dancer and enjoys Ballet and Modern.  She mentioned that "others in her group take dance as well" and that they were incorporating some of the movements shown in class into their final presentation.  Ella, who has no dance experience, said that "she enjoyed learning the different dance moves."
Karen generously donated her time and talent through The Green Dragon Foundation offering a fun twist on dance while exposing the students to real dance experience and professionalism.