Brooks Gronlund Completes Final Term as President of The Green Dragon Foundation
---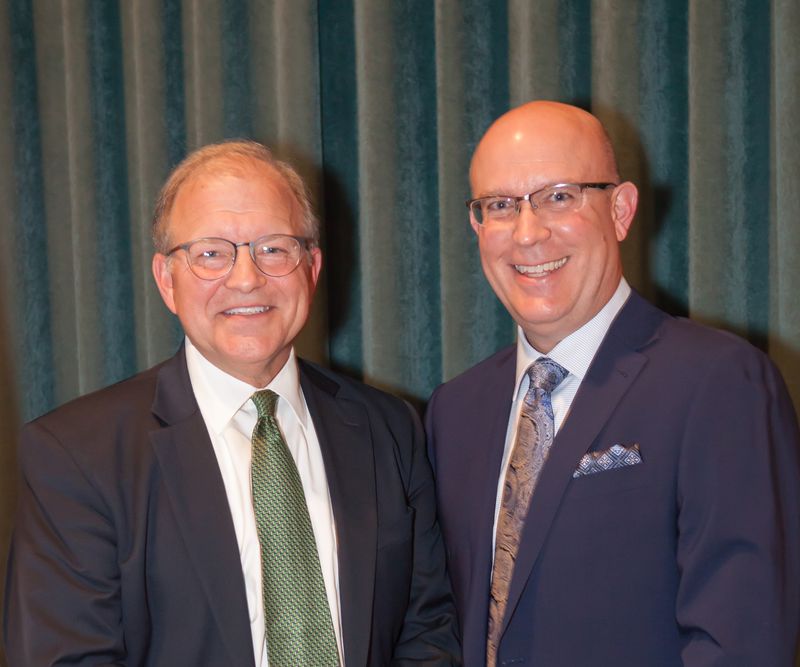 (L to R) GDF President, Bob Kallin with Past President, Brooks Gronlund.

February 18 - January 29th marked the end of an era for The Green Dragon Foundation. The Board of Directors held its Annual Meeting on that date; 2019 officers were elected and for the first time ever, Brooks Gronlund was not our president. Ann Glock explains, "Brooks just completed the last year of his third term and according to our By-Laws, must rotate off the board as a voting member for at least one year. Unfortunately, that also meant that he could not serve as our president. He will however continue to serve as our Past President, an Advisor to the Board."
        The Foundation honored Brooks at its recent 10th Anniversary Celebration for his service as a founding member and its first president. Brooks has positively impacted the lives of countless children through his generosity, tireless effort, and dedication. His leadership was a wonderful example for the entire community, as he led our Foundation from its infancy to a sustainable entity that will enrich the lives of students for generations to come. To commemorate his service, the Board of Directors established the "Brooks Gronlund Endowment", which will help support the ongoing operations of the Foundation.
        At the January 29th meeting, the Board of Directors elected Robert J. Kallin to serve as the organization's new president. According to Glock, "Bob was a founding member of the Foundation and recently retired as the VP of Development, Alumni and Parent Relations at Gettysburg College. He brings leadership and decades of fundraising expertise to our organization. Bob is the perfect choice to take our organization from the amazing foundation that Brooks built to the next level." Kallin notes that "Brooks' vision ten years ago has provided incredible opportunities for our students. I look forward to the next chapter and how The Green Dragon Foundation, in partnership with all of the district's stakeholders, can continue to enrich the experiences of our students."