New Board Members Elected to The Green Dragon Foundation
---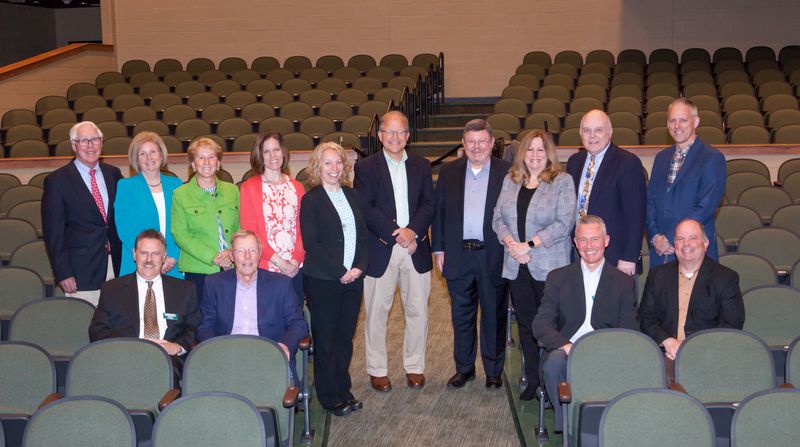 (L to R) Seated are; Ed Zych, Gale Reish, Bill Stackhouse, and Ted Strosser. Standing are; John Donahoe, Ann Glock, Karen Nicholson, Jennifer Shabahang, Niki Weber, Bob Kallin, Don Steele, Kathy Swope, Steve Skalka, and Scott Rosevear. (Missing are; Katie Cavanagh, Amit Johal, Matt Markunas, Brianna Apfelbaum Kula, Julie Kaufman, Tim Apple, Bob McCormack, Chris Still, Bill Stackhouse, Brooks Gronlund, Benyam Addissie, Mike Kula and Kristin McVicar.
May 10, 2019 - At its Annual Meeting, The Green Dragon Foundation elected three new Members of the Board and appointed three new Advisors to the Board. Beginning their three-year terms as voting members were Bob Kallin, Julie Kaufman and Atty. Ed Zych. Advisors to the Board are appointed annually and now include Dr. Benyam Addissie, Atty. Michael Kula, and Ted Strosser.
Also at the same meeting, the Board elected the following officers; Bob Kallin as President,  Jennifer K. Shabahang as Vice President, J. Donald Steele, Jr. as Treasurer and Nichole D. Weber as Secretary. These officers will serve in this capacity until August 2020.
Ann Glock, Executive Director stated, "Overall, the leadership team of The Green Dragon Foundation consists of the Board of Directors (15 voting members and 14 non-voting Advisors to the Board, including the LASD Superintendent and President of the School Board) and the Executive Director who serves in an ex-officio capacity. Our Nominating Committee meets regularly to assess the organization's current and future leadership needs. Anyone who may be interested in serving in a leadership role or on a committee may inquire by calling the Foundation at (570) 522-8433 or by emailing at [email protected]"