Linntown Students Put Coding Skills into Action with Dash and Dot Robotics
---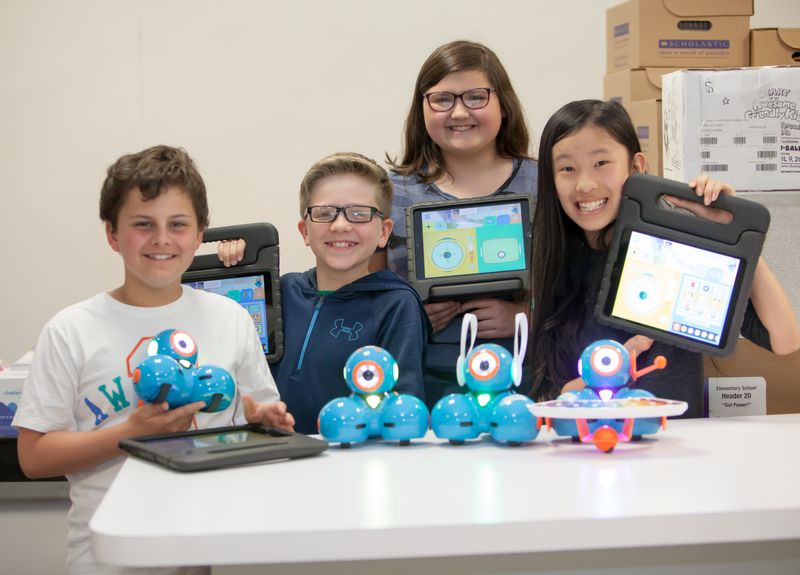 November 6, 2019 - At Linntown Elementary all 4th and 5th grade students are exposed to coding, which is integrated into their science curriculum. They utilize a website called code.org to learn the basics of coding. A couple of years ago Linntown teacher Colby Derr attended a technology training where he was introduced to the Dash and Dot robots. Students use various apps on their iPads to write code that controls the robots and this allows students to see their coding in action.

Dot is the smaller, stationary robot and Dash is the larger robot which can move. Students can program the robots to make noises, change colors and tell jokes. With attachments such as a xylophone they can make music. "Students learn problem solving by trying over and over to get the right sequence of code. They learn to layer codes and make loops", explains Mr. Derr.

With funding from the Green Dragon Foundation, Linntown went from having just a couple sets of Dash and Dot robots to now having 24 sets - enough for an entire classroom. They can be used in the school's Maker Space or transported on their carts to specific classrooms. Having enough robots for an entire class really allows teachers to integrate Dash and Dot into their curriculum. Mr. Bennett, Linntown Principal, shares his enthusiasm for this program saying "one robot was exciting but one for every kid is insane - in a good way." The Green Dragon Foundation is proud to support STEM initiatives throughout the Lewisburg Area School District.
Thank you to The Lewisburg Studio for the photos.