Green Dragon Foundation 2019 Volunteer of the Year Presented
---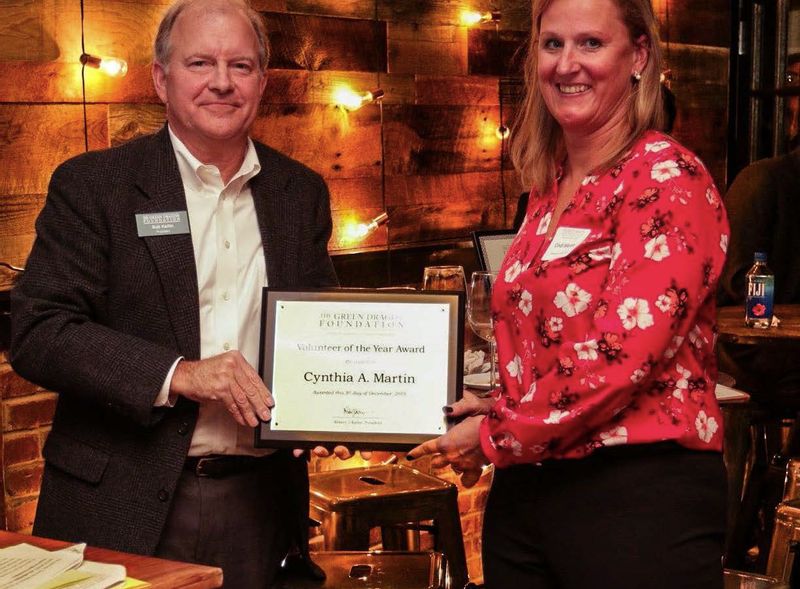 GDF president, Bob Kallin presents Cindi Martin with her "Volunteer of the Year" award.

December 9, 2019 - At its recent Donor & Volunteer Recognition Reception, The Green Dragon Foundation (GDF) honored Cynthia A. Martin and bestowed her with its "Volunteer of the Year" award! According to Ann Glock, Executive Director, "Cindi has been volunteering with GDF since 2013. Through the years, Cindi has helped Lewisburg students through GDF by chairing annual recognition receptions, overseeing several bulk mail assembly projects, taking photographs, writing stories about the many ways donors' gifts to GDF are enhancing Lewisburg students' educational experience and updating GDF's donor database."

    Glock continues, "Over the years, Cindi has also helped Lewisburg students through other support organizations. She served with the Lewisburg Elementary PSA, the Donald H. Eichhorn Middle School PSA, and currently volunteers with the Green Dragon Sports Booster Club as a team representative and past president."
    According to Cindi Martin, "When my children were young, I volunteered at their preschool and elementary schools. As they got older there were fewer volunteering opportunities but I was still very interested in their education and wanted to help where I could." She continues, "I enjoy volunteering at GDF because I feel connected to the school district and can continue to help."

    In addition to volunteering her time, Cindi and her husband Tom are generous supporters of Lewisburg Area School District (LASD) programs. "We support GDF because it enhances many of the programs in our district that wouldn't happen if it weren't for the Foundation." She adds, "Having been a teacher before staying home with my children, I know the importance of having an organization like GDF that provides the 'extras'."

    Along with a plaque of appreciation, GDF will make a $1,000 gift for an LASD program/project in Cindi's honor. She asked that we designate it for the Multipurpose Building/Concession Stand project that GDF is currently studying. Glock concludes, "We thank Cindi for her service and all of her efforts on behalf of Lewisburg students!"
Thank you to David Newsome of A Touch of Glass Photography for this photo.