Northumberland National Bank Makes EITC Gift to Benefit Lewisburg Students
---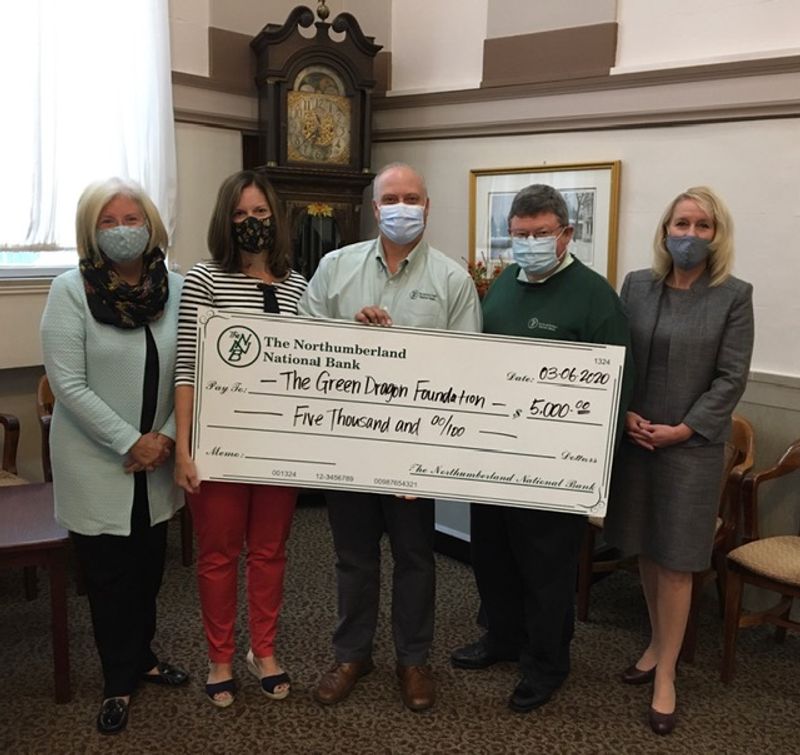 (L to R) Ann Glock, Jennifer Shabahang, J. Todd Troxell, Don Steele, and Jennifer Polinchock.
October 15, 2020 - In March, The Green Dragon Foundation received a $5,000 gift from The Northumberland National Bank through the PA EITC Program. Unfortunately, due to Covid-19 restrictions, the check presentation was delayed until this month. Bank President and Chief Operating Officer, J. Todd Troxell and Chairman and CEO, Don Steele presented their donation to GDF Executive Director, Ann Glock, Vice President, Jennifer Shabahang, and Lewisburg Area School District Superintendent, Dr. Jennifer Polinchock.

Glock states, "We are grateful to Northumberland National Bank for their support of LASD students through the EITC program. This year's gift will go a long way to help provide Lewisburg students with unique hands-on learning experiences such as the Model UN (United Nations) Club and the district-wide STEAM (Science Technology Engineering Art Math) program at Lewisburg Area High School." She continues, "This support means so much for Lewisburg students and our community."
Glock encourages EITC approved businesses to contact the Foundation about making a gift through the program to provide Lewisburg students with advanced and innovative opportunities. Call the Foundation at (570) 522-8433 or contact by email at [email protected].