Green Dragon Foundation Presents Ceremonial Check and Announces New Fundraising Initiatives at School Board Meeting
---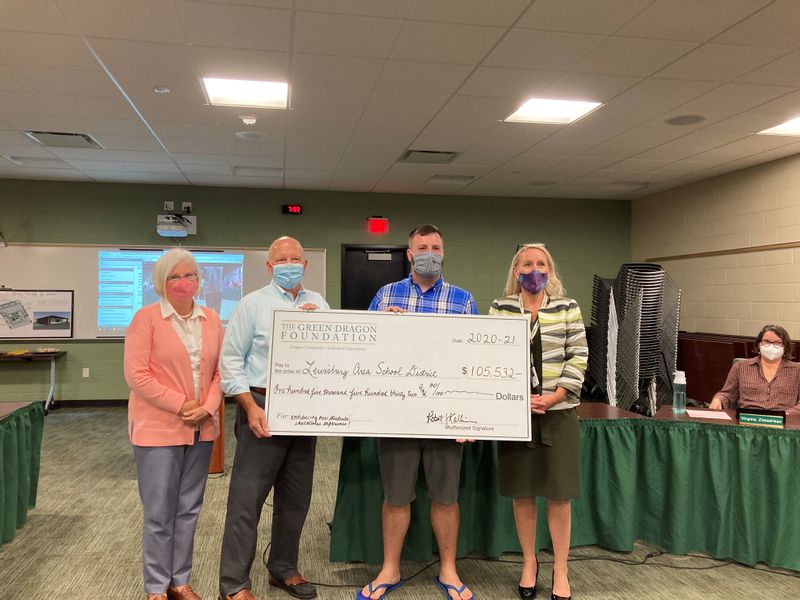 September 24, 2021 - The Green Dragon Foundation (GDF) recently announced two new fundraising initiatives and presented a ceremonial check at the Lewisburg Area School District (LASD) school board meeting. Bob Kallin, Board Chair, presented the "check" for $105,532 representing the financial support that the foundation provided to the district to enhance its students' educational experience. According to Kallin, funds were given to support programs such as:
Music and STEM at Kelly Elementary with instruments and "Ozobots".
STEM at the DHE Middle School with Little Bits STEM equipment.
STEM at the high school with a UV printer for the Makerspace, and robotics for the Tech Lab.
Food insecurity at Kelly Elementary, Linntown Intermediate, and the DHE Middle School.
Covid-related assistance (large pole tents at Kelly and Linntown schools, document cameras at Linntown, a virtual concert at the middle school, outdoor picnic tables at the high school and plastic desk guards district-wide).
Kallin reported that the foundation will continue its fundraising efforts to help provide Lewisburg students with enhanced programmatic support. He stated, "This fall, the foundation is launching two new fundraising initiatives to further support Lewisburg students. The first project is essential; it is to construct a Multi-Purpose Building on the high school complex between the soccer/lacrosse turf field and the Brandon Kramm Memorial Baseball Field. The facility would include much-needed restrooms, a concession stand, a training room for on-site injury prevention/response, and team and maintenance storage. The fundraising goal was set at $525,000."
Kallin noted that the foundation convened a campaign steering committee to guide the fundraising efforts. In the coming weeks and months, members of the committee will be hosting special events and contacting potential donors to ask for their financial support of the project. He noted that there are recognition and "naming opportunities" available.
Kallin credits Ben Liscum, Class of 2021, who was instrumental in bringing this project to the district's attention. Based on his experience with the LAHS soccer program, Liscum stated, "As amazing as our playing experience was, we always felt that the spectators at our games did not necessarily share the same experience." He continued, "One much-needed improvement that the multi-purpose facility will address are public restrooms. Instead of porta-potty's, our dedicated supporters would have access to actual bathrooms. This would make the experience for those in attendance much more convenient, clean, and satisfactory."
The second project is to construct a greenhouse which is also located at the high school campus. According to Kallin, "This project will provide an exceptional educational opportunity for our high school students." Students in Science and Family & Consumer Science classes would learn how to grow fresh fruits and vegetables, organic growing practices, fresh food preservation techniques, and the value of growing and eating fresh foods for nutrition and overall health." He added, "The goal is to raise an additional $50,000 to make this project a reality."
The foundation is seeking donor support for both of these projects. Individuals or businesses wishing to donate for these and other programs, can click on the donate button or call the office at (570) 522-8433.