LAHS Class of 2019 Dedicates Gazebo in Memory of Classmate Brendan Fisher
---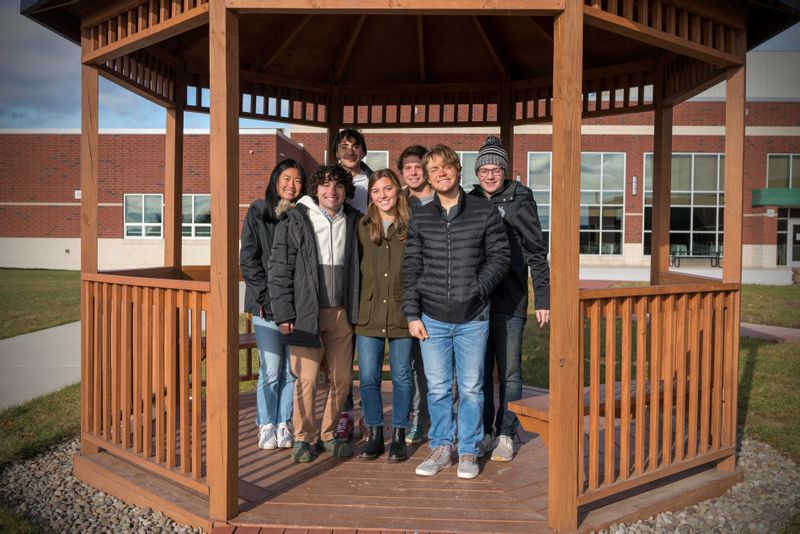 LAHS Class of 2019 Members
November 29, 2021—Ann Glock, Executive Director of The Green Dragon Foundation announced that the Lewisburg Area High School (LAHS) Class of 2019 recently dedicated a gazebo in memory of their classmate, Brendan Fisher. It is located at the Markunas Family Courtyard outside of the LAHS cafeteria.
According to Glock, "In May of 2019, Class of 2019 advisors Mrs. Tracy Strosser and Mrs. Peggy Albright, contacted The Green Dragon Foundation to ask what the class could do to honor Brendan. After some discussions with the district and the advisors, the class made a generous gift to the Foundation to build the special gazebo.
Glock continued, "The district worked with SUN Area Technical Institute to have their students design and construct the structure. Unfortunately, due to Covid-related closings, the gazebo was put on hold for almost one year." She thanked SUN Area students and Matt Markunas who donated the excavation and preparation of the area for the placement of the gazebo.
Other ceremony speakers included LASD Superintendent, Dr. Jennifer Polinchock-Baugh; Class of 2019 Advisors, Albright and Strosser; and Class Officers, Sarah Ayers, and Jake Rothman. Special remarks were provided by Brendan's classmate and best friend, Evan Dominick.
Glock concluded, "Thank you to everyone who helped make this special memorial to Brendan possible!"
Thanks to David Newsome of A Touch of Glass Photography for the photo.