Class of 2015 Donates $5,167 to Green Dragon Foundation
---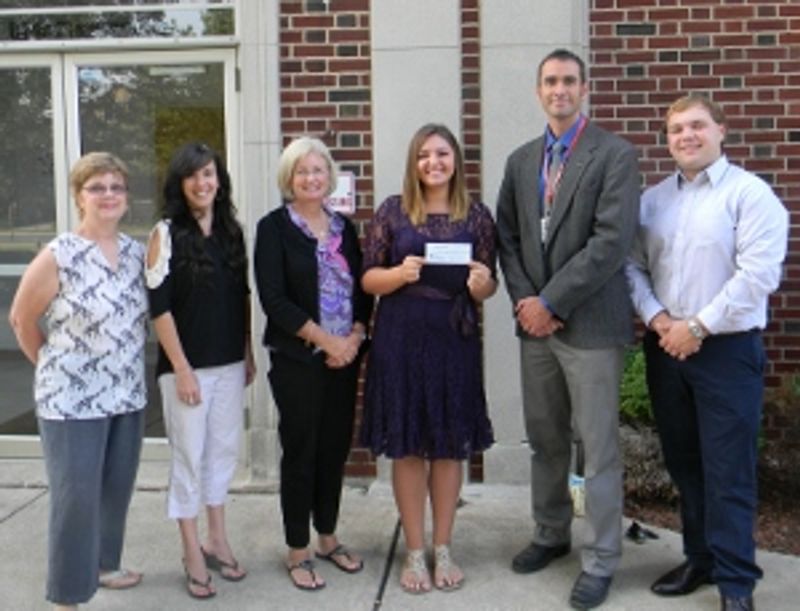 Photo from left to right: Mrs. Christy Emigh, Mrs. Sarah Friedberg, Ann Glock, Hannah Koss, Mr. Van Wagner, Alex Liscum
LAHS Class of 2015 Advisor, Mrs. Sarah Friedberg, recently contacted The Green Dragon Foundation telling them that the Class of 2015 wanted to make a gift to their organization. She explained that during their four years at the high school, the Class of 2015 raised funds to cover expenses for their prom, class trip and baccalaureate-and still had more than $5,000 left over.
According to Mrs. Christy Emigh, Class of 2015 advisor, "The class wanted to contribute the remaining money to the new high school to support science initiatives. We contacted Mr. Van Wagner, an LAHS science teacher, to inquire about plans for a nature/education path at the new high school." She continued, "While speaking with him, he described an additional opportunity in his science classroom."
Mr. Wagner describes the exciting opportunity. "I salvaged a beautiful timber rattlesnake that was killed by a car. They are becoming very rare around here so I would like to get it mounted and preserved. I would love to add this to the environmental science classroom for years of valuable educational use. I cannot even imagine the thousands of questions/stories/teachable moments that will come from having this on my desk for decades to come."
So in response, the Class of 2015 decided to use their gift to support both science initiatives at the new high school.
Brooks Gronlund, President of the Foundation states, "This is the second year graduating classes have chosen to make a gift to the Foundation in support of their school. We are so grateful for their donation and hope that current and future classes consider making this an annual tradition! These students are paying it forward and providing resources for future students!"