The Steele Family Health & Fitness Center Serves a Variety of Purposes
---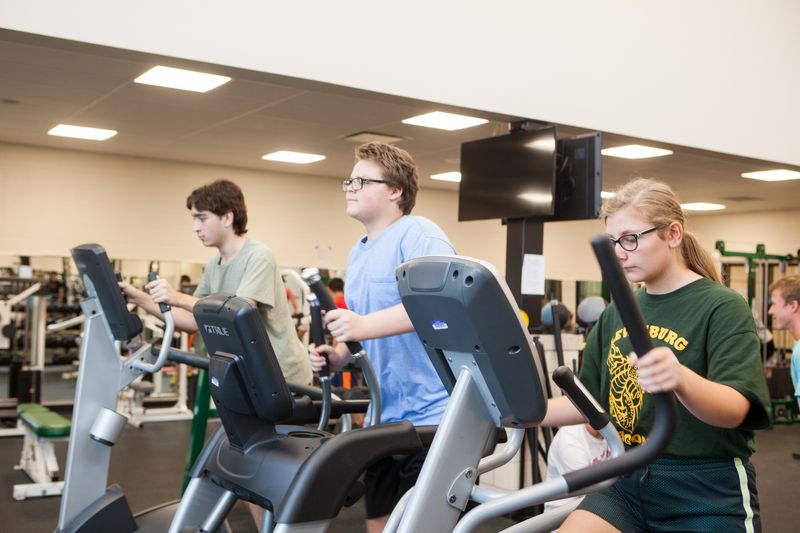 By Bill Stackhouse '69
March 12, 2018 -
Through The Green Dragon Foundation, people have donated generously to enhance various areas of the new high school. Don and Joanne Steele designated their gift to help outfit the Steele Family Health & Fitness Center. This center has many purposes, including physical education classes, rehabbing injured athletes and training for all athletic teams. A new Physical Education (PE) elective was implemented this year called "Lifetime Fitness", which has the students creating their own workouts and using it in the fitness center. Future plans will bring the center's use to all PE classes, grades 9-12, as the curriculums are developed.
    Because of the varying types of workout equipment, free weights and pin machines, the Steele Family Health & Fitness Center allows for athletes and PE students the freedom to work out safely and efficiently. Beside the weights, there are 14 cardio machines to help with the student-athletes' stamina and rehab. Those athletic teams and coaches who want to use the facility are able to utilize the center under supervision.  The foundation is grateful to Evangelical Community Hospital for their in-kind gifts of additional equipment to supplement the Center
    The athletic trainer uses the facility to help rehab the injured athlete with available equipment and get them back on the field/court in a timely manner. The Steele Family Health & Fitness Center continues to grow both in how it is used as well as the equipment in the facility. The Green Dragon Foundation is grateful to the Steele Family, Evangelical Community Hospital and many others for their generous support.    
Thank you to John Gardner from The Lewisburg Studio for the photo.
 .