Brandon Kramm Memorial Field Groundbreaking Ceremony Held at LAHS
---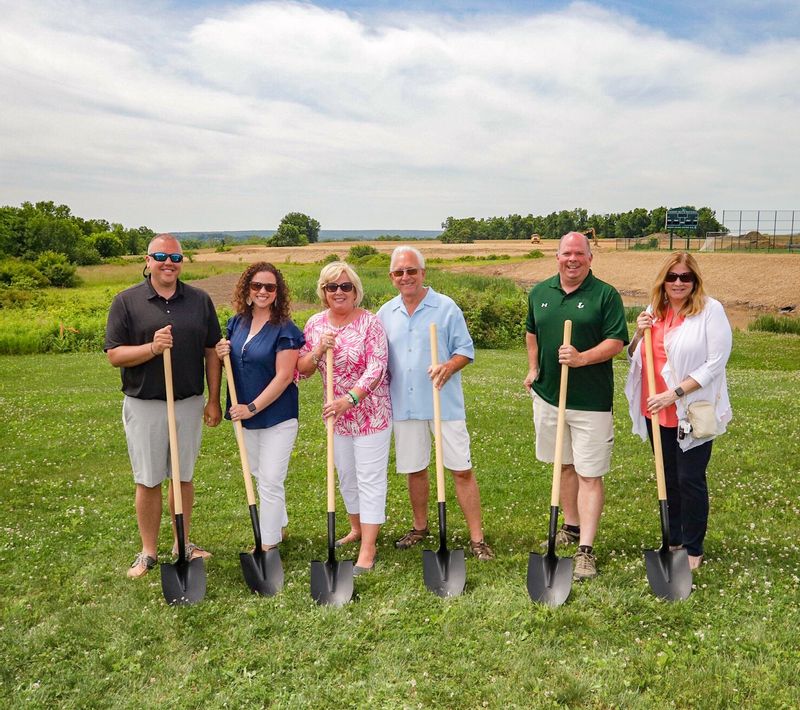 L-R: Justin Kramm, Courtney Kramm Beddall, Julie Kramm, Jeff Kramm, Ted Strosser, and Kathy Swope.

The "Field of Dreams" project envisioned by the family of Brandon Kramm officially got underway on June 8, 2019. Friends and family of Brandon Kramm gathered at the site of the future Brandon Kramm Memorial Field at Lewisburg Area High School (LAHS) for the groundbreaking ceremony on Saturday, June 8th.
Ceremonial shovels were held by Brandon's family members; Jeff and Julie Kramm, Justin Kramm, and Courtney Kramm Beddall; Lewisburg Area School District (LASD) Board President, Kathy Swope; and Project Architect and Manager, Ted Strosser.
Ceremony speakers included The Green Dragon Foundation Executive Director, Ann Glock; LASD Superintendent, Dr. Skalka; Brandon's high school friend, Eric Wetzel; college friend, Ryan Fitzpatrick; and father, Jeff.
According to Ann Glock, Executive Director of The Green Dragon Foundation, "Since 2014, the foundation has worked closely with the Kramm Family to raise funds to augment the Brandon Kramm Memorial Endowment which provides support to enhance athletic programs and facilities at LAHS. In early 2016, the idea to build the Brandon Kramm Memorial Field using funds from the endowment was borne. A goal of $400,000 was set to construct the field; increased fundraising efforts began. By June 2018, the fundraising goal was met!"
Glock continues, "Since that time, a field planning committee was formed and design work was completed. The foundation is very grateful to Ted Strosser of Strosser Baer Architects for donating his time and services to design the field and manage the construction project." According to Strosser, "The foundation plans to begin construction within the next few weeks and will continue throughout the summer. We are hopeful that the high school baseball team will be able to play games there next spring (2020)!"
The project is very special for the Kramm family. The baseball field will be a created as a lasting tribute to the impact Brandon had on his friends, family and LAHS community. According to Brandon's father, Jeff Kramm, "Brandon was a 2001 graduate of LAHS. He was an exemplary student and stand-out athlete in football, basketball and baseball." He continued, "Brandon loved playing all sports. He was a baseball catcher from the age of five until he graduated from high school. His high school baseball team qualified for districts every year and won championships in 1999 and 2000."
In 2002, Brandon was diagnosed with two autoimmune diseases; Crohn's disease and Primary Sclerosing Cholangitis, a rare liver disorder. He passed away in May 2013, two months after his second liver transplant. According to Julie Kramm, "After Brandon received his second liver transplant, he said, "I need to pay it forward".  Kramm continues, "To quote one of Brandon's favorite baseball movies, "If you build it, they will come." Well Brandon, we are paying it forward for you. We are building it and they will come!"
"The Foundation is grateful for all of the support it has received for this special project. Over the years, there are so many donors, volunteers, golfers, auction participants to thank. It is because of the energy and passion of Julie Kramm and her family that has brought us to this point today", stated Glock. "Lewisburg student athletes will benefit for years to come!"
After the ceremony, guests were invited to the LAHS Heritage Room for refreshments and fellowship. According to Glock, "The LAHS Alumni Association created wonderful displays of Lewisburg baseball memorabilia throughout the years. We are grateful for their support of this event."
Annual fundraising efforts will continue to augment the endowment to provide exceptional athletic programs and facilities for years to come. Individuals or businesses wishing to volunteer or donate to the endowment or project can click on the donate page or call the Foundation's office at (570) 522-8433.
For more photos from the ceremony, click here.