Green Dragon Foundation Recognizes Volunteers and Donors at Reception
---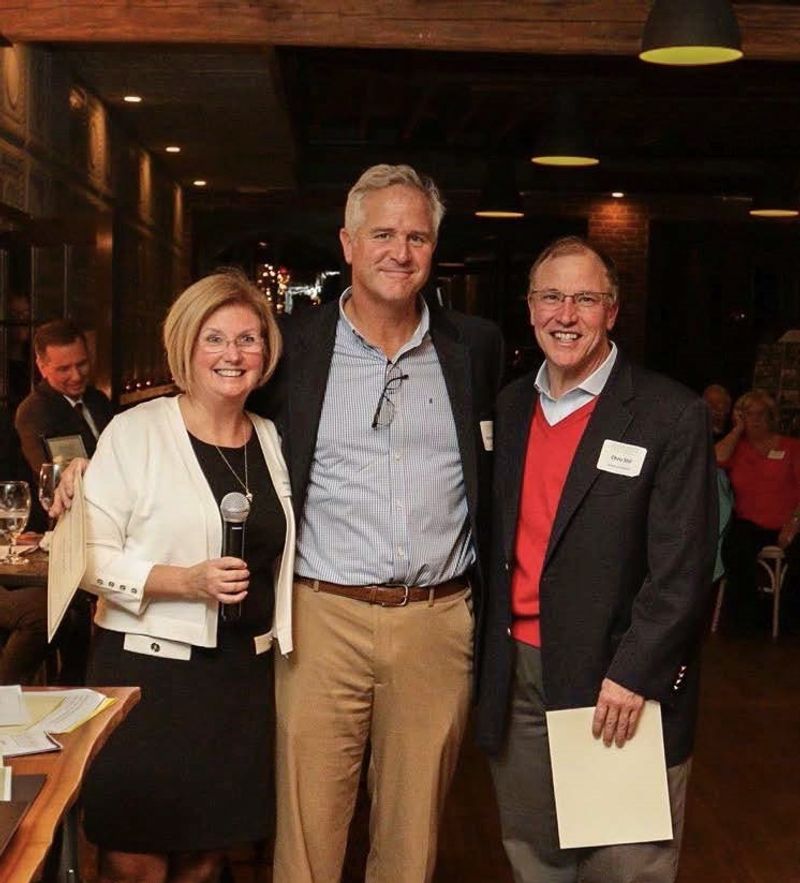 Steve Glock and Chris Still, volunteers who completed ten years of service with Ann Glock, Executive Director of The Green Dragon Foundation.

December 11, 2019 - The Green Dragon Foundation (GDF) recently recognized its volunteers and donors at a reception held at The Iron Front in Lewisburg. According to Ann Glock, Executive Director of GDF, "During the 2019-2019 school year, 41 volunteers worked a total of 460 hours assisting the Foundation in numerous ways." She continued, "Volunteers are an essential and irreplaceable component of our organization. Raising funds for Lewisburg students requires a team of volunteers and we wouldn't be able to do it without them."
    Recognized for ten years of service were: Tim Apple, Abby Beswick, Katy Garcia, Steve Glock, Bob McCormack, Tamara Normington, Erica Shames, and Chris Still. For five years of service were: Courtney Beddall, Katie Cavanagh, Shelley Coons, John Donahoe, Tracy Fetterman, John Gardner, Barbara Habig, Amit Johal, Jeff Kramm, Julie Kramm, Justin Kramm, Matt Markunas, Polly Patterson, Suzanne Reish, Scott Rosevear, Ann Sabol, Bill Stackhouse, and Eric Wetzel.
    Special honorees this year included Cindi Martin who was named the 2019 "Volunteer of the Year" and Kathy Swope who was honored for her service to GDF as the LASD School Board President.
    According to Glock, "Donor gifts have had a profound impact on Lewisburg students. We thought that the reception would be a good opportunity for our donors to hear first-hand how their gifts have enhanced educational experiences for Lewisburg students." Blake Dutweiler, Lewisburg Area High School Technology Education Teacher, described how donor gifts helped to equip the new Advanced Prototyping and Design Lab. Gifts enabled new technology equipment for students to design and create prototypes, such as toys that were donated to the Geisinger Janet Weis Children's Hospital.
    Sarah Tiede, Donald H. Eichhorn Middle School Vocal and General Music Teacher told donors about how their gifts have enhanced middle school music programs. Their gifts helped to provide a set of risers for the school's Choral Program and guitars for her 7th grade music classes.
    The Foundation asked Ken and Corey Jusko to say a few words about what motivated them to create the "Uniquely the Same-The Jusko Family Endowment". They were unable to attend so Niki Weber, GDF Board Member, shared their prepared remarks. According to the Juskos, "We believe that we are all truly different and unique individuals, but still have the same basic emotional needs. If every student can be reminded of that daily, it may open our minds and allow us to be more forgiving of other's actions, and keep us from judging or hurting others. The permanent fund will provide annual support for the social, emotional, and physical well-being of all students within the LASD."
    GDF President, Bob Kallin closed the evening by thanking all in attendance for their ongoing dedication, generosity and commitment to the students of the Lewisburg Area School District.
    Individuals or businesses wishing to volunteer or donate can visit The Green Dragon Foundation website at www.greendragonfoundation.org or call the Foundation office at (570) 522-8433.
Thank you to David Newsome of A Touch of Glass Photography for this photo.