Green Dragon Foundation Honors the Service of Kathy K. Swope
---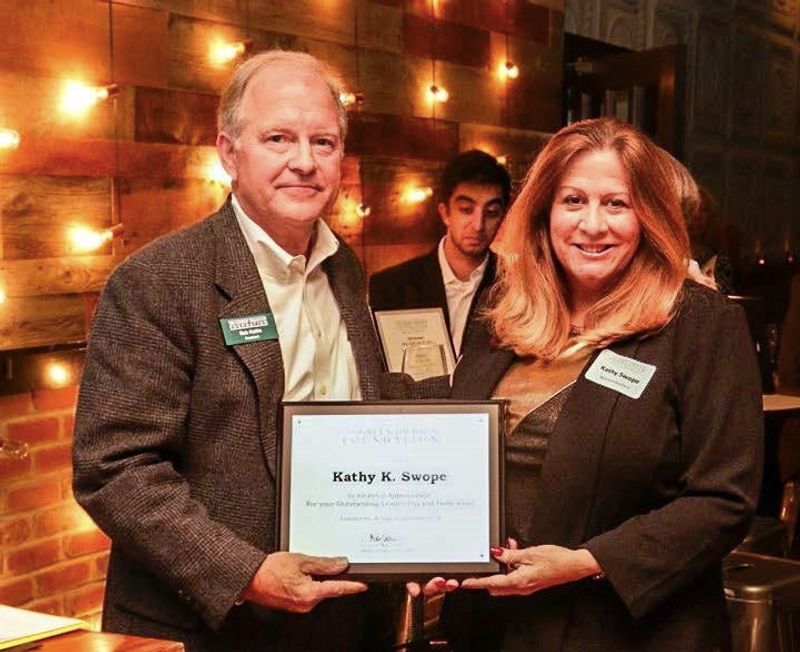 GDF president, Bob Kallin presents Kathy Swope with a token of appreciation.

December 11, 2019 – At its recent Donor & Volunteer Recognition Reception, The Green Dragon Foundation (GDF) honored Kathy K. Swope who has served as an Advisor to its Board of Directors since its founding in 2008. In her role as President of the Lewisburg Area School District (LASD) Board of Directors, she and then Superintendent Dr. Mark DiRocco, worked closely with GDF's founding members to create the organization that it is today.
    DiRocco was on hand to present Swope with the award and remarked, "As President of the LASD School Board, Kathy developed a vision and culture that led the district to exemplary levels of achievement. LASD has been recognized statewide as one of the highest performing school districts. Additionally, Kathy brought her leadership and governance skills to the state level and served for a total of 12 years as a board member, including board president, of the PA School Boards Association (PSBA)." 

    After having served more than 20 years as a school board member, and 12 years as its president, Swope presided over her last school board meeting on November 14, 2019. Ann Glock, GDF Executive Director stated, "Unfortunately for GDF, Kathy's role as an Advisor to the Foundation's Board also comes to an end. Not wanting to lose her valuable experience and expertise, we asked her to serve as the Foundation's governance consultant and as a Governance & Human Resources Committee member for the next year. Fortunately for us, Kathy graciously agreed." She continued, "GDF is a stronger organization with Kathy's guidance!"
    Glock concluded, "The impact that Kathy has had on thousands of Lewisburg students is immeasurable. She has positively impacted the lives of countless children through her tireless effort, dedication, and generosity. Her leadership of the district and guidance on the GDF board are wonderful examples for the entire community and her efforts will continue to enrich the lives of students for generations to come."
Thank you to David Newsome of A Touch of Glass Photography for this photo.