Sunrise Rotary Donates Constitution & Declaration of Independence Booklets to Lewisburg Students
---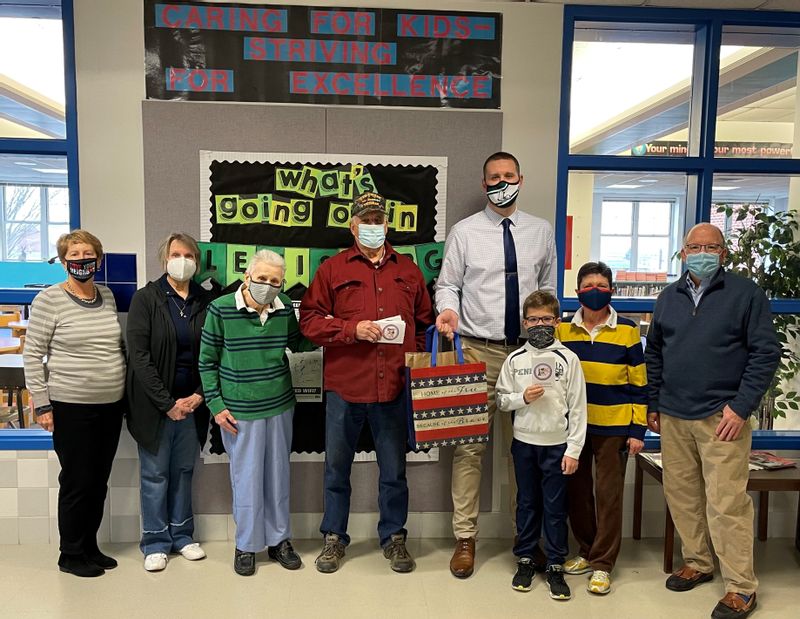 (L to R) Karen Nicholson, Rev. Marian K. Anderson, Marty Gates, Max Bossert, Jeremiah Bennett, Joel Gessner, Swan Stull, and Bob Kallin.

February 10, 2021 - The Lewisburg Sunrise Rotary recently donated 150 copies of a U.S. Constitution and Declaration of Independence booklet to Lewisburg students. The Green Dragon Foundation helped facilitate the donation. The gift was the inspiration of Rotarian Max Bossert. Mr. Bossert believes that every young person should have a copy of these important documents. Representing The Sunrise Rotary were Karen Nicholson, Max Bossert, Swan Stull, Marty Gates and Rev. Marian K. Anderson. The Green Dragon Foundation President Bob Kallin was on hand to present the booklets to Linntown Principal Jeremiah Bennett and student Joel Gessner.
GDF Executive Director Ann Glock states, "We are very grateful to the Lewisburg Sunrise Rotary for this gift to support civics education in the Lewisburg Area School District. These personal copies of our nation's founding documents are something that students will refer back to for years to come."
Any individual, business or group that would like to make a gift to support Lewisburg students should call the Foundation at (570) 522-8433 or contact by email at [email protected].