Green Dragon Foundation Recognizes Volunteers and Donors at Fero Vineyards
---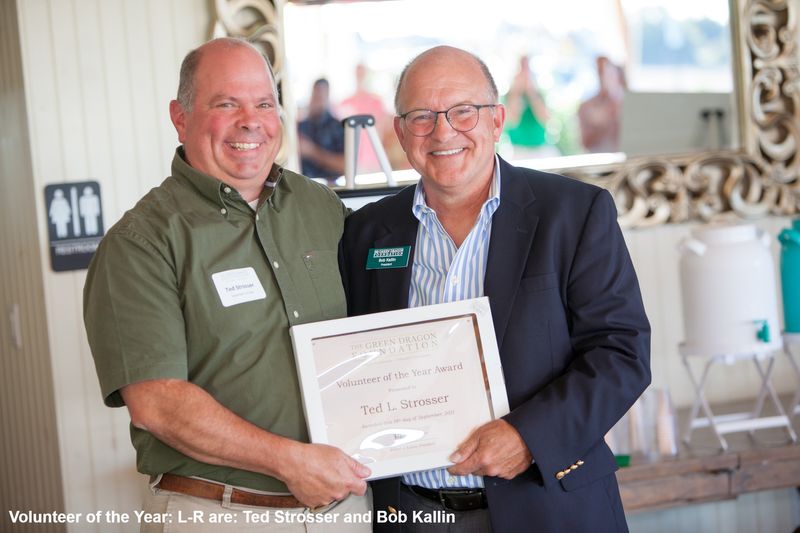 September 21, 2021 - The Green Dragon Foundation (GDF) recently recognized its volunteers and donors at an outdoor reception held at Fero Vineyards. Bob Kallin, Board Chair, welcomed the guests and thanked them for their financial support in helping the Foundation distribute more than $105,000 to the Lewisburg Area School District during the last school year. Gifts helped to enhance educational experiences for LASD students.  Dr. Jennifer Polinchock, LASD Superintendent, offered her words of appreciation to the crowd. She mentioned that Foundation gifts have provided programs and projects that would not have happened if not for the generous gifts from donors.

According to Ann Glock, Executive Director of (GDF), "Volunteers are an essential and irreplaceable component of our organization. Raising funds for Lewisburg students requires a team of volunteers who help in a variety of ways."
This year, volunteers Karen Nicholson and Niki Weber were recognized for five years of service and Barbara Baylor, Lynne Howard, Dr. Gale Reish, and Jennifer Shabahang for ten. Jennifer Shabahang, Vice Chair, announced that Dr. Gale Reish and Karen Nicholson recently completed their service on the GDF Board and thanked them for their leadership.
Also recognized were Lisa Perrone, Lisa Tranquillo, Kimberley Drexler, and Jennifer Shabahang for their leadership on the "Lifting Up Lewisburg" campaign. The campaign was launched last summer and raised nearly $38,000 to provide LASD students and teachers with Covid-related assistance.

Culminating the awards portion of the reception was the presentation of the Volunteer of the Year Award.  This award was created in 2011 to recognize a volunteer who went above and beyond in the scope of volunteer efforts. This year, the award was bestowed upon Ted Strosser.
Shabahang stated, "Strosser, who is an architect with Strosser Baer Architects, approached GDF in 2017 and volunteered to design and manage the Brandon Kramm Baseball Field project. We were very grateful and eager to work with him." She continued, "A project planning committee was convened. Strosser designed the field and has been serving as the project manager since then." A field dedication ceremony was held on April 10, 2021.
When asked why he wanted to help with this project, Strosser stated, "I thought it would be a good way to help the school district, who so well-prepared our kids for the world. I have a love of baseball and baseball fields in particular, so it was a natural fit."
Along with a plaque of appreciation, GDF will be making an additional $1,000 gift to LASD in honor of Strosser.  According to Glock, Strosser has chosen the Brandon Kramm Memorial Field/Endowment as the beneficiary of this special gift. Shabahang concluded, "We thank Ted for his service and all of his efforts on behalf of Lewisburg students!"
Glock extends her appreciation to John Gardner of Lewisburg Studio for his volunteer photography. Individuals or businesses wishing to volunteer or donate can visit The Green Dragon Foundation website at www.greendragonfoundation.org or call the Foundation office at (570) 522-8433.